Here are a number of tips for those traveling to Oahu, Hawai'i based on our December 2015 family trip there.
Lodging: Hotels charge resort fees, parking fees and Internet fees, about $75 or more a night, on top of the room price you will find on Expedia. There were five of us, so we would have needed two rooms. We ended up using Airbnb, which cost much less and gave us a kitchen and laundry facilities in our Waikiki apartment (see photo). We were not disappointed in the least.
Gardens: The botanical gardens on Oahu were not as impressive as the two we visited on Maui in 2011. But we still enjoyed them very much. We went to the Lyon Arboretum on the first afternoon and loved it (see photo below). We walked to a waterfall in the back of the Arboretum since Manoa Falls was too inaccessible due to heavy rainfall. Hoomaluhia Gardens was one of the attractions I was most looking forward to, because of the gorgeous photos I had seen on Flickr (especially this one). But we all agreed it was just okay. Foster Garden right in Honolulu was much smaller but peaceful and pretty.
Helicopter: my wife and I had taken the breath-taking Blue Hawaiian helicopter trip to West Maui and two adjacent islands in 2011. While the Oahu tour wasn't quite as dramatic, it was still worth the money. Unfortunately, we forgot to grab Daniel's ID, and since President Obama was on the island, Homeland Security took a long time interrogating him before letting him fly. And we got the sense that they skipped part of the tour both because of the time we lost waiting for Daniel and because there were parts of the island off-limits while Obama was there.
North shore: our daughter Alexandra and her friend Winnie took their first ever surfing lessons and managed to stand up and ride the waves…
Meanwhile, Daniel and I drove to nearby Camp Erdmans YMCA, where for a free will donation we got to walk through Otherton from the TV show Lost. We both loved that show, and Daniel was grinning from ear to ear.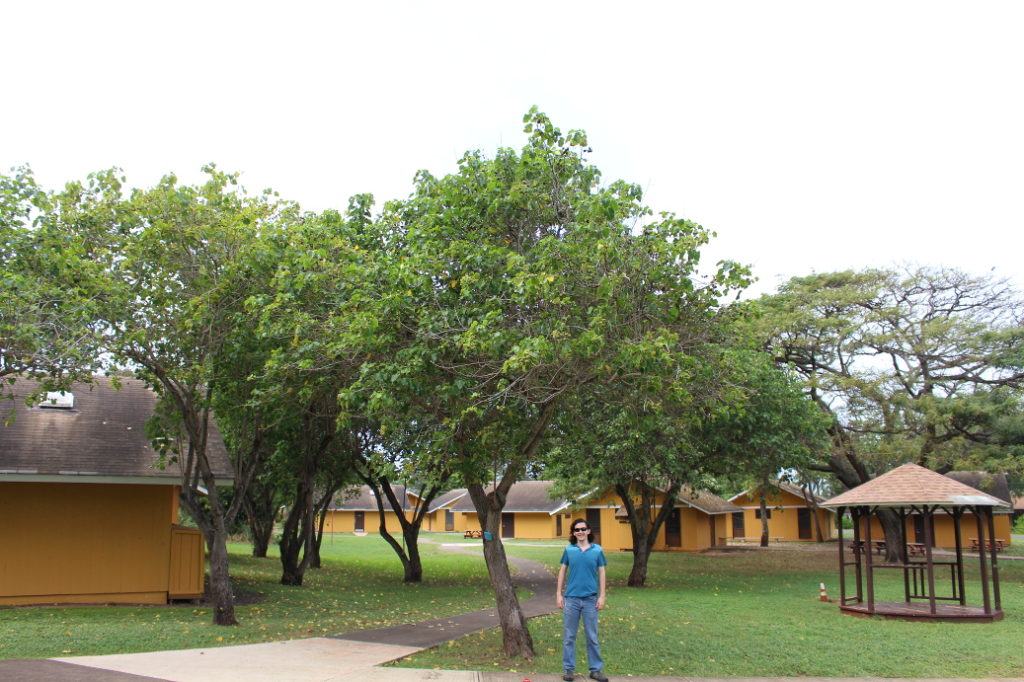 Our "somewhat around Oahu" driving tour: we drove counterclockwise from Waikiki, hoping to get all the way around the island in one day. But we had so much fun seeing places along the way, such as this rocky beach…
And the pretty Kualoa beach park…
That we only got as far as Kualoa and had to turn around. Seriously, I could have skipped Waikiki completely and spent my entire vacation on the other side of the island. The mountains are so beautiful and there is more plant life.
The tourist attraction that turned out surprisingly good: I plunked down the money for the Polynesian Cultural Center, assuming that it would be mildly interesting but way overpriced. Boy, was I wrong. We got the Ali Luau package which included a luau dinner and live show, and then the amazing live show, Ha! the Breath of Life. This was way better than I thought it would be, and worth every penny.
The tourist attraction that turned out surprisingly meh: My son Daniel and I took the movie tour at the Kualoa Ranch. I was expecting a tour in a roof-free vehicle with a number of stops throughout the lush valley at sites where famous Hollywood scenes were filmed. Instead, I got a tour in a school bus, with only two stops, one at a WWII bunker. So we only stopped once in the valley, at the tree trunk seen in the original Jurassic Park. And during the drive, I had the aisle seat, so I could hardly see anything through the small school bus windows. (to be fair, my 21 year old son had the window seat and enjoyed it a lot.)
Shrimp and ice cream: these were two foods we couldn't get enough of on Oahu. We had shrimp at the big food court at the gigantic Ala Moana mall:
And at Giovanni's famous shrimp truck. Mmmm!
As for ice cream, the family had "snow" at the Snow Factory (see photo), and the most heavenly salted caramel ice cream ever made, at Nitrogenie.
Shopping: My wife enjoyed the Aloha Stadium Swap Meet so much, she made me take her back a second and a third time. Good deals on Hawaiian shirts, macadamia nuts, ukeleles and much more. It's right near Pearl Harbor, so don't miss it.
Christmas program at Hope Chapel: This was a delight. Well-known Christmas hymns (and some Hawaiian ones I had never heard before) set to ukeleles, and a pastor who preaches barefoot. One of my favorite moments. I wish they had had music CDs for sale. I would have bought one.
Diamond Head: Seriously, get a ride to the actual entrance of this volcano. My tour book said that Diamond Head was five minutes from Waikiki. Since we were on that end of Waikiki, I had us all hoof it there. The problem is that the entrance is in the back, so we had to walk all the way around it. Then cross it. Then walk up it. Then return. We were exhausted.

Byodo-Inn temple: This was quite a treat. The entrance through the cemetery was inspiring…
And the temple itself very pretty. And there were lots of birds and fish to feed at the end of the walk.
Pearl Harbor: Don't make the mistake I made when going to Pearl Harbor: I went alone thinking I could do the early morning thing and get the free passes for my family, and pick my family up later after they had slept in. But it turned out everyone needed to be physically present to get their free passes, so we went the last day of our trip. The most moving part of Pearl Harbor for me was the plaque that described the surviving sailors who asked for their remains to be submerged with their fallen comrades.
What I would do were I to go again: see Waimea Valley park, take a contemplative walk around this cemetery…
…and maybe this time get into the ocean! Seriously, how embarrassing is it that I was ten days in Hawaii and never got in the ocean past my ankles. But I can't say I feel disappointed by that. I loved the entire trip! For the rest of our vacation photos of Oahu, see here.