For years I have been trying to find the best note-taking tool. I wanted to have my notes all in one place, in a way that allows me to quickly dump individual notes from my reading, organize them by topics, link topics to each other, and quickly find my notes with a flexible search mechanism.
I have tried everything:
Earlier this month I discovered Dynalist. And now my search is over. I have found my note-taking holy grail.
Dynalist was created by Erica Xu and Shida Li who appear to have become tired of waiting for Workflowy to implement their promised new features. So they built her own, better version. And they may not realize it, but they built the perfect solution to the problems I had with the tools mentioned above.
How can I best describe Dynalist? It is an outlining tool clearly inspired by Workflowy, but in which you create any number of separate, infinite outliner documents and can organize them in folders.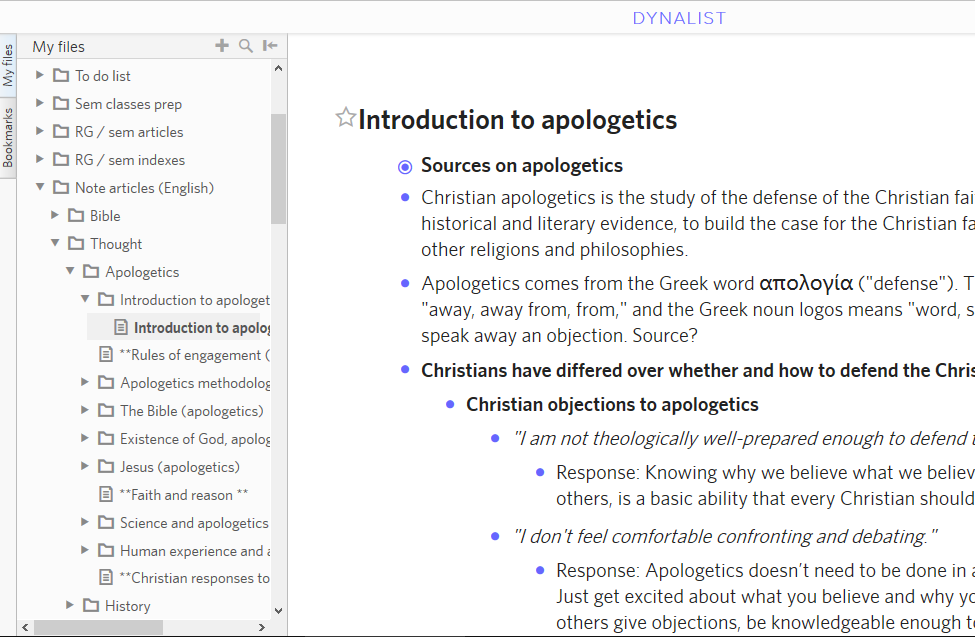 Some details:
You can tag as in Workflowy, with a # or an @.
You can search for either document titles or for content in the documents. And the searching is fast and helpful.
You can add inline previews to images on the web (something that requires a complicated hack in Workflowy).
You can quickly create links to other documents or even to bullet points in other documents with the search-link function.
You can convert any list or bullet point into a separate document simply by dragging it to the contents pane.
You can share your documents so others can view them. Here is a shared Dynalist I created.
There are many other features like bookmarking, themes, and some customization settings.
I even created a couple of custom user styles for Dynalist (get them here), but that is for another blog post.
The other thing that impressed me about Dynalist is their fast, friendly service, and their plan for development of new features and functions. They have a Trello board here outlining their plan. And you can see how they have progressed in each quarter.
About pricing – the amazing thing is that most of the best features are available in their free version. I ended up buying the pro version for $50/year. This gives me backups (for when I accidentally delete something and need to go back and find it later) and bookmarking. It will also soon allow me to save files to Dynalist. But if your goal is productivity, note-taking, organizing your thoughts, brainstorming, or writing first drafts of articles, the free version lets you do pretty much everything you would want to. (More details on pricing here).
I hope you will do yourself a favor and give Dynalist a try. It is a great product, and for me, is the end of a long search for just the right note-taking tool.